The ears often overlooked when considering facial rejuvenation; however, large or protruding ears or damaged or large earlobes are aesthetic concerns that often leave men, women, boys, and girls facing unnecessary social ridicule. No matter your age or gender, unbalanced ears can significantly impact your self-esteem and level of self-confidence.
Ear surgery sculpts, downsizes, and pins back prominent ears to restore a more balanced facial appearance. In addition to correcting the size, shape, and projection of the ears, ear surgery can also include the repair and resizing of the earlobes.
Ear surgery is often performed as a part of Diamond Facial Rejuvenation to restore balanced, symmetrical, and youthful facial contours
---
What Is Achieved With Ear Surgery?
Improved Self-Esteem
Ear surgery is a cosmetic procedure that provides emotional relief for patients with overly large and protruding ears or damaged and/or oversized earlobes. Whether you are an adult whose ears have been a source of anxiety or a parent who fears that their child will face ridicule from their peers, ear surgery can achieve the results you desire. Reshaping the ears can help restore self-esteem in adults and preserve it in children. Feeling confident and comfortable with your ears can lead to overall satisfaction with your appearance.
Harmonious Facial Features
Overly large ears can cause your facial features to appear unbalanced, as the size of your ears may cause the rest of your face to appear smaller. Ear pinning (otoplasty) safely and effectively corrects the size and visibility of the ears. In cases where the ears are overly large or uneven in size, otoplasty techniques can restore a balanced appearance to the ears themselves.
Repaired Earlobes
The earlobes can experience significant trauma—either on accident or due to the desire to make a fashion statement. It is not uncommon for heavy earrings to stretch a piercing or an earring to get caught on something, which can tear the delicate skin and tissue. Alternatively, individuals who choose to gauge their earlobes with plugs may decide that they no longer want the visible evidence of this fashion decision. Earlobe repair addresses torn or gauged earlobes.
Customized Results
Dr. Diamond specifically tailors each ear surgery to the patient, ensuring custom results that highlight your facial appearance. Multiple ear surgery techniques are available, ranging from ear pinning to cartilage reshaping to earlobe repair or reduction. During your consultation, Dr. Diamond will advise you on the least invasive procedure that will provide maximum results for your unique needs.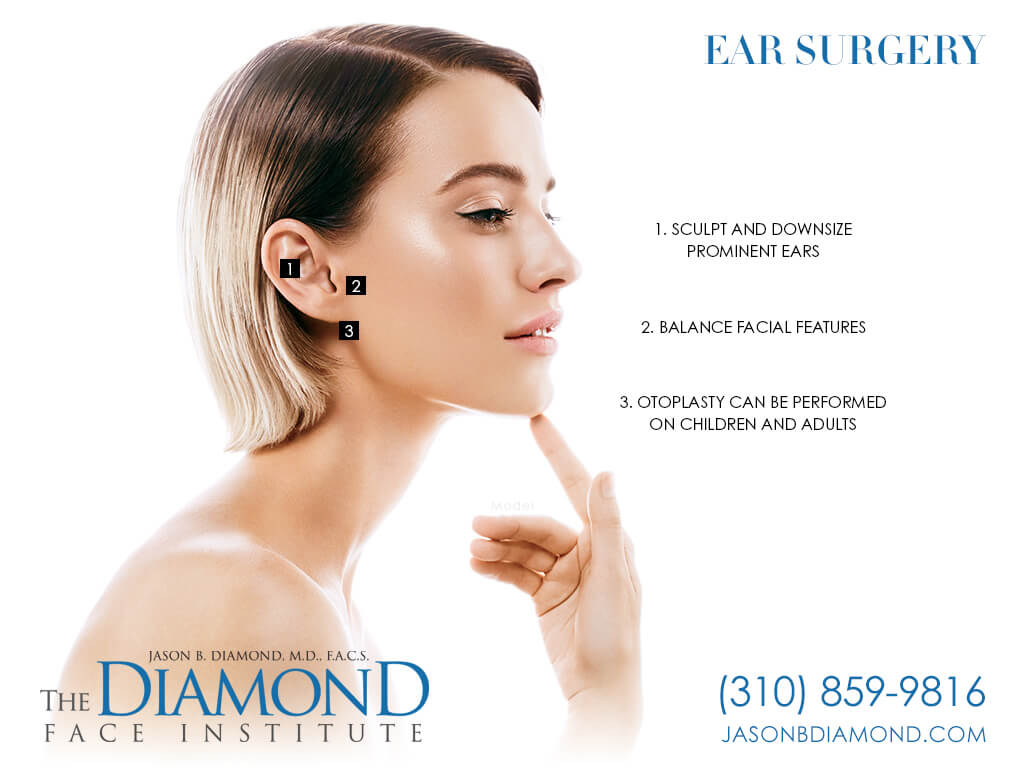 How Is Ear Surgery Performed?
All ear surgery variations are performed under local or general anesthesia. While a simple earlobe repair is performed with local anesthesia, young children and adults who are undergoing Diamond Facial Rejuvenation will often be put under general anesthesia.
During your consultation, Dr. Diamond will examine your or your child's ears to determine the best approach for the procedure. The consultation is an essential part of the ear surgery process. Patients should be prepared to discuss their medical history and all current medications to ensure that the procedure is safe.
Ear Pinning
Ear pinning is a simple technique that uses incisions behind the ear to remove a small portion of tissue to bring the ears closer to the scalp. Ear pinning eliminates the appearance of protruding ears.
Cartilage Reshaping
Some patients develop overly large ears that cause emotional insecurities. Ear surgery can make subtle adjustments to the cartilage of the ear to bring them in better proportion to the surrounding facial features. These techniques can be applied to one or both ears, depending on the patient's needs.
Earlobe Repair
Earlobe repair is a straightforward procedure that returns aesthetics to stretched, damaged, torn, or gauged earlobes. To repair a torn earlobe or eliminate a gauge, a thin piece of scar tissue will be removed along the edge of the tear (or gauge) so that the remaining sides can be stitched together.
Once this incision has healed, you can pierce your ears once again.
Earlobe Reduction
Overly large or drooping earlobes can cause an imbalanced facial profile. Since balance is an essential part of all Diamond Facial Rejuvenation results, earlobe reduction is often considered. To perform an earlobe reduction, Dr. Diamond makes an incision along the edge of the earlobe. A portion of tissue is removed to create a smaller, shapelier, and more balanced earlobe aesthetic.
Commonly Combined Procedures
While otoplasty is performed as a standalone procedure in children, ear surgery is often performed as part of the more extensive Diamond Facial Rejuvenation in adults. Diamond Facial Rejuvenation is a personalized facial enhancement procedure that ensures harmony and symmetry between all facial areas. Depending on your needs, your ear surgery may be combined with facelift techniques, rhinoplasty techniques, brow lift techniques, or customized facial implants to maintain a beautiful and balanced facial appearance.
Is Ear Surgery Right for Me?
If you or your child is experiencing physical or emotional challenges due to the appearance of the ears, ear surgery may be appropriate. Please call Dr. Jason B. Diamond at (310) 859-9816 to set up a consultation. 
What Are Your Concerns About Ear Surgery?
How Long Does It Take to Recover From Ear Surgery?
Ear surgery, whether ear pinning or earlobe repair/reduction, is an outpatient procedure, and you will be able to return home shortly after the anesthesia wears off.
Immediately After
It is common for bruising and swelling to develop around the ears following ear surgery. Dr. Diamond will instruct you about how to care for your incisions and dressings.
One Week 
Patients should rest and sleep with their heads elevated to prevent excess swelling from forming. Most ear surgery patients may return to work or school, but strenuous physical activity should still be limited.
Two to Three Weeks
Most patients find that the majority of swelling subsides within two to three weeks. Ear surgery results should start to finalize at this point. 
Six to Eight Weeks
Patients can resume all activities, which includes swimming. The earlobes can often be pierced at this time.
Will There Be Scars After My Ear Surgery?
Dr. Diamond is careful to place all of the incisions for otoplasty in the crease behind the ear. The placement of these incisions masks the visibility of scarring.
Earlobe repair and earlobe reduction incisions are made on the earlobe itself, and there is a possibility for post-operative scarring. Dr. Diamond is meticulous in his incisions to ensure they are as hidden as possible. All scarring will face with time.
How Much Does Ear Surgery Cost?
Your or your child's ear surgery procedure will be personalized and tailored to you/them. Therefore, the total cost of the surgery is dependent on the steps and techniques required. Dr. Diamond is happy to provide you with an accurate cost estimate during the consultation once he has had a chance to develop the surgical plan.
This estimate will include the surgeon's fees, facility fees, anesthesia fees, pre-surgical tests, post-surgical dressings, and combined Diamond Facial Rejuvenation techniques.
We offer financing options through CareCredit®.
Is There Pain Involved With Ear Surgery?
Since ear surgery is performed with the assistance of local or general anesthesia, the surgery itself is painless. Any discomfort that develops after the surgery may be controlled and lessened using oral pain medication. Dr. Diamond will inform you of the correct dosage of this pain medication for you or your child. Many patients find that over-the-counter pain medication like TYLENOL® is sufficient to minimize discomfort.
What is the Diamond Difference?
Ear surgery is a fairly straightforward procedure, but it still requires extensive knowledge and skill, not to mention a compassionate approach to help patients of all ages. Dr. Diamond is a renowned facial plastic surgeon with years of experience performing all variations of ear surgery. Schedule your consultation with Dr. Diamond today by filling out our
online contact form
.
What is the Diamond Difference?
Ear surgery is a fairly straightforward procedure, but it still requires extensive knowledge and skill, not to mention a compassionate approach to help patients of all ages. Dr. Diamond is a renowned facial plastic surgeon with years of experience performing all variations of ear surgery. Schedule your consultation with Dr. Diamond today by filling out our
online contact form
.
Frequently Asked Questions About Ear Surgery
Am I, or my child, the right candidate for ear surgery?
Ear surgery, including ear pinning and earlobe repair, is one of the few cosmetic procedures performed on both adults and children. This surgical procedure can be safely performed on patients once their ears are fully developed, typically around the age of five or six. While this surgery is commonly performed on children to avoid the social stigma associated with overly large or protruding ears, it can also be performed on adults displeased by their ear aesthetics.
Candidates should be non-smokers who are in good health and have realistic expectations of their results.
Can ear surgery correct functional problems with the ears?
Ear surgery is a cosmetic procedure that corrects aesthetic abnormalities of the ear—not functional concerns. Patients will have to see an audiologist to address any functional or hearing problems.
Can prominent or protruding ears correct themselves?
The ears are highly susceptible to physical changes during the first six months of their lives—this is why the ears may be manipulated and reshaped immediately following birth without surgical means; however, it is very unlikely for prominent or protruding ears to correct themselves later in life.
Any physical changes needed for patients over six months old will require a surgical fix.
Can I pierce my ears after earlobe repair?
You can absolutely pierce your ears after earlobe repair; however, patients interested in doing this must wait at least two months after the procedure to ensure that their ears have fully healed.
Will my ear surgery results be permanent?
If ear surgery is performed after the patient's ears are fully developed, the results will be permanent; however, if the surgery is performed too soon (while the ears are still developing), the results may continue to alter as the ears grow.
If you undergo ear surgery to repair damaged earlobes, your earlobes can be damaged again if they suffer another trauma or you continue to wear heavy or overly large earrings.