Healthy skin is the cornerstone of a beautiful, youthful-looking facial appearance.
Many facial plastic surgeons overlook this crucial part of the face when performing surgical or non-surgical facial enhancements. Most surgeons only see skin laxity or the underlying bone and muscle structure. Unfortunately, this means that traditional facial surgeries only address what's going on beneath the surface without considering skin tone or texture.
---
Dr. Jason B. Diamond understands how short-sighted and ignorant this approach is. He created the Diamond Face Institute to be different from other facial surgery practices. Instead of "spot-focusing" some aesthetic concerns while disregarding others, Dr. Diamond believes in treating the face as a whole and giving each aspect—particularly the skin—the dedicated care it deserves.
Why Choose Diamond Skin Therapy?
Diamond Skin Therapy is like no other facial enhancement. Dr. Diamond's signature skin treatment aims to achieve complete skin health at any age.
Dr. Diamond not only understands the importance of skin health, but he stresses it as an essential part of your facial rejuvenation and anti-aging endeavor. No matter what he does to enhance your underlying facial structure, the results will never match your expectations or desires if your skin is not healthy, hydrated, and blemish-free.
Skin health and facial contouring need to be considered together, and this is something that is far too often forgotten about in other hands.
Maintain Lasting Skin Health At Home
When you visit Dr. Diamond, you know that your skin health is a top priority. While in-office treatments can restore a healthy complexion, lasting skin maintenance requires more.
It is essential that you follow your in-office treatment with a dedicated at-home skincare program with high-quality products. These products will further improve and maintain Dr. Diamond's work.
Shop Diamond Face Institute for quality skincare products that heighten your glowing complexion.
---
Meet the Doctors
Diamond Skin Therapy was created by our aesthetic experts Dr. Jason B. Diamond and Dr. Jessica Combs. Dr. Diamond and Dr. Combs have extensive experience and remarkable skill in providing successful skin health and anti-aging treatments.
Diamond InstaFacial®
As Dr. Diamond's signature skin treatment, the Diamond InstaFacial® combines a series of collagen-boosting therapies to restore younger, more vibrant skin. The Diamond InstaFacial® is the go-to treatment for all skin tones and types to improve overall skin health. This innovative procedure combines laser treatments, PRP injection therapy, microneedling (with additional PRP), and ionized collagen masks to rejuvenate, replenish, and revive your skin. The Diamond InstaFacial® is chosen to address:
Fine lines and wrinkles
Acne scarring
Stretch marks
Skin blemishes
Uneven skin tone
And more
About Diamond InstaFacial®
Diamond InstaAMNI®
The Diamond InstaAMNI® takes the already superior results of the Diamond InstaFacial® up a notch by infusing amniotic stem cells with your PRP. PRP (platelet-rich plasma) is a derivative of your blood that contains the growth-factor-rich platelets. Your platelets contain powerful healing and regenerative properties; however, even they cannot match the restorative power of amniotic stem cells. The InstaAMNI® is performed like the InstaFacial®, but amniotic stem cells (from a donated tissue bank) are mixed with your PRP to provide substantially more significant results. The Diamond InstaAMNI® is performed to treat:
Fine lines and wrinkles
Acne scarring
Stretch marks
Skin blemishes
Uneven skin tone
And more
About Diamond InstaAMNI®
Diamond 4Ever Young
The signature Diamond 4Ever Young combines the DiamondGlow™ with Morpheus8™ radiofrequency resurfacing, PRP injections, and LED light resurfacing. This comprehensive resurfacing treatment is applied to the face and body to boost collagen and treat:
Dull skin
Skin blemishes
Fine lines and wrinkles
Skin discoloration
Roughness and dryness
And more
About Diamond 4Ever Young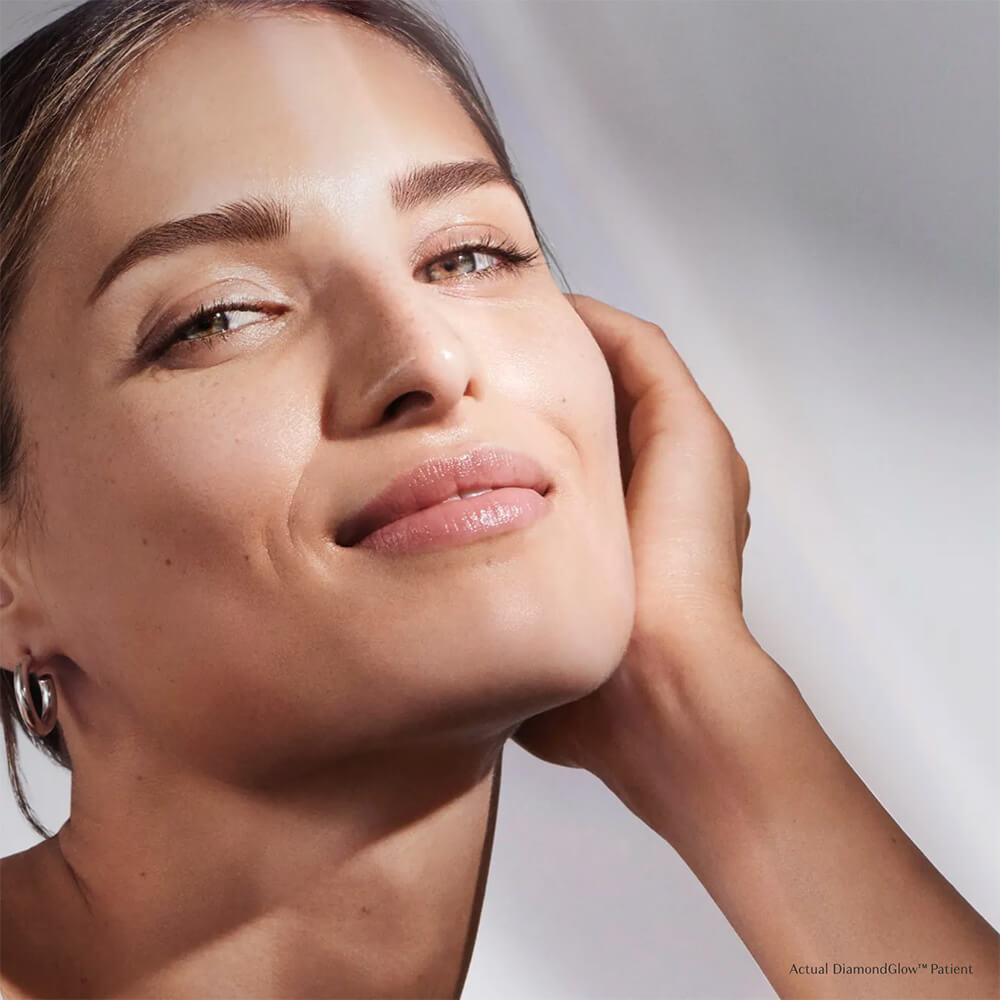 DiamondGlow™
The DiamondGlow™ is a non-invasive skin resurfacing therapy that leaves your complexion looking clearer, smoother, brighter, and healthier. Like all of Dr. Diamond's signature treatments, this is a combination therapy that incorporates high-quality SkinMedica® Pro-Infusion serums with dermabrasion to exfoliate and rejuvenate the skin. The DiamondGlow™ is selected to treat:
Dull, congested skin
Roughness and dryness
Fine lines and wrinkles
Skin discoloration and dark spots
About DiamondGlow™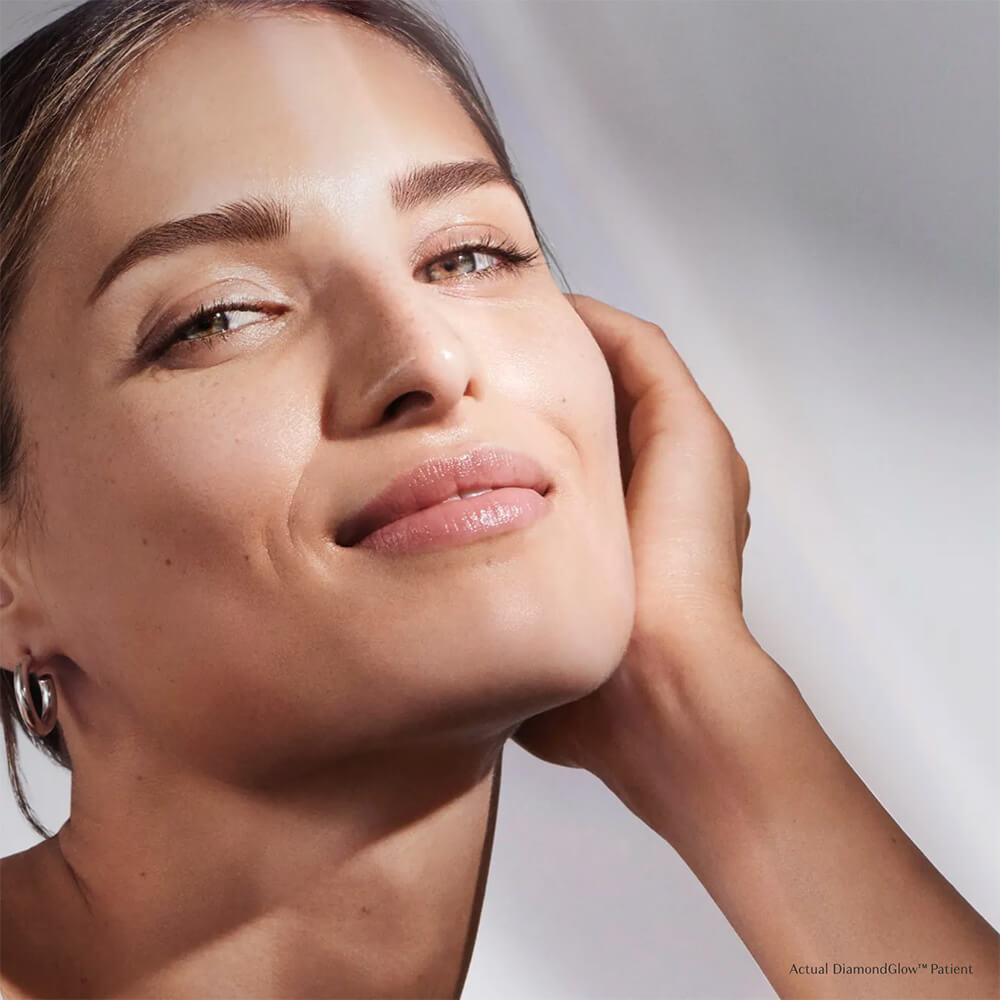 Diamond Laser Rejuvenation
Laser rejuvenation is a signature part of many Diamond Skin Therapies. The Diamond Face Institute offers many laser technologies, from radiofrequency (RF) to intense pulsed light (IPL). These technologies are customized to your needs to stimulate collagen and improve the appearance of:
Irregular skin tone and texture
Skin texture and tone
Facial wrinkles and creases
Scars and vascular lesions
Hyperpigmentation and age spots
Unwanted hair
Diamond Laser Rejuvenation
Diamond Skin Tightening
Skin laxity gradually develops as your collagen stores decrease. Many patients develop minimal skin laxity on their face and body that affects their appearance but isn't significant enough to require surgical correction. Diamond Skin Tightening with technologies such as Forma™, Forma Plus™, and RFAL by InMode address minor to moderate skin laxity for tighter and smoother skin. Diamond Skin Tightening is performed to improve:
Skin tone
Skin tightness
Fine lines and wrinkles
About Diamond Skin Tightening
Chemical Peels
The Diamond Face Institute offers the most advanced chemical peels to restore tired and damaged skin caused by smoking, sun exposure, environmental factors, aging, and other factors. Facial peels are customized to achieve superior results for each patient's unique skin. Facial peels are performed to improve:
Acne and acne scars
Scars and spider veins
Fine lines and wrinkles
Hyperpigmentation, discoloration, and age spots
Sebaceous hyperplasia
Customized Facials
Diamond Skin Therapy is all about complete skin health, and maintaining hydrated, moisturized skin is essential. The Diamond Face Institute offers customized facials tailored to your specific skin needs.
See the Difference
Frequently Asked Questions About Diamond Skin Therapy
How long will my Diamond Skin Therapy results last?
Diamond Skin Therapy is personalized to meet your specific needs and skin concerns. Because of its customizable nature, the longevity of its results varies between patients. Most patients return to Dr. Diamond every month or every few months for additional Diamond Skin Therapy treatments.
How much does Diamond Skin Therapy cost?
The cost of your Diamond Skin Therapy will depend significantly on the combination of therapies included in your treatment. You will be given an accurate cost estimate during your consultation once your Diamond Skin Therapy program has been defined.
Should I combine Diamond Skin Therapy with other surgical or non-surgical procedures?
Diamond Skin Therapy addresses the quality of your skin. These treatments are essential for all of Dr. Diamond's patients, whether you are undergoing surgical Diamond Facial Rejuvenation or non-surgical Diamond Facial Sculpting®.
See the Difference
If skin health is so important, why is it so often overlooked?
Although addressing skin quality seems obvious when undergoing facial enhancement procedures, it is often left on the backburner and offered as an add-on once you have recovered from facial surgery.
Alternatively, Dr. Diamond sees skin treatments as a necessary part of all facial rejuvenation treatments and necessary for complete facial health.
When should I start Diamond Skin Therapy?
The importance of skincare doesn't start at a particular age. It is always important to your appearance and your overall health. Skincare programs should be started early to ensure optimal results.