Beverly Hills Lip Augmentation
Whether in real life or a selfie, your lips are one of the most noticeable and alluring features on your face. Unfortunately, hereditary factors and the aging process sometimes leave women and men unsatisfied with the appearance of their pout.
Diamond Facial Rejuvenation with lip augmentation or non-surgical treatments restore shape and volume to naturally thin or thinning lips. Dr. Diamond has helped countless patients improve the attractiveness and appealing quality of their lips. Diamond Facial Rejuvenation with lip augmentation can be performed alone or in combination with other facial surgeries to collectively bring a beautiful, balanced, and natural result.
Female, Lip Lift, Revision Facelift, Neck Lift, Chin Augmentation and Facial Fat Grafting
You can view this gallery of before and after photos of Dr. Diamond's patients. He has helped many women and men achieve their desired aesthetic results.
Each individual case is, of course, different, and the results of surgery will vary from individual to individual.
View Gallery
What Is Achieved With Lip Augmentation?
Luscious Lips
Many people are born with naturally thin lips that can make them feel self-conscious. After lip augmentation, patients can enjoy full, plump lips with a renewed sense of self-confidence.
Sculpted Lip Contour
Aging of the lips often causes loose skin and fine lines around the mouth. Lip augmentation eliminates the surrounding lines and wrinkles while creating a more defined and sculpted shape of the lips.
Sensual Youthfulness
While the lips are smooth and full when we are young, they tend to develop wrinkles and thin out over time. Lip augmentation eliminates wrinkles and adds fullness to the lips, so patients look and feel noticeably younger.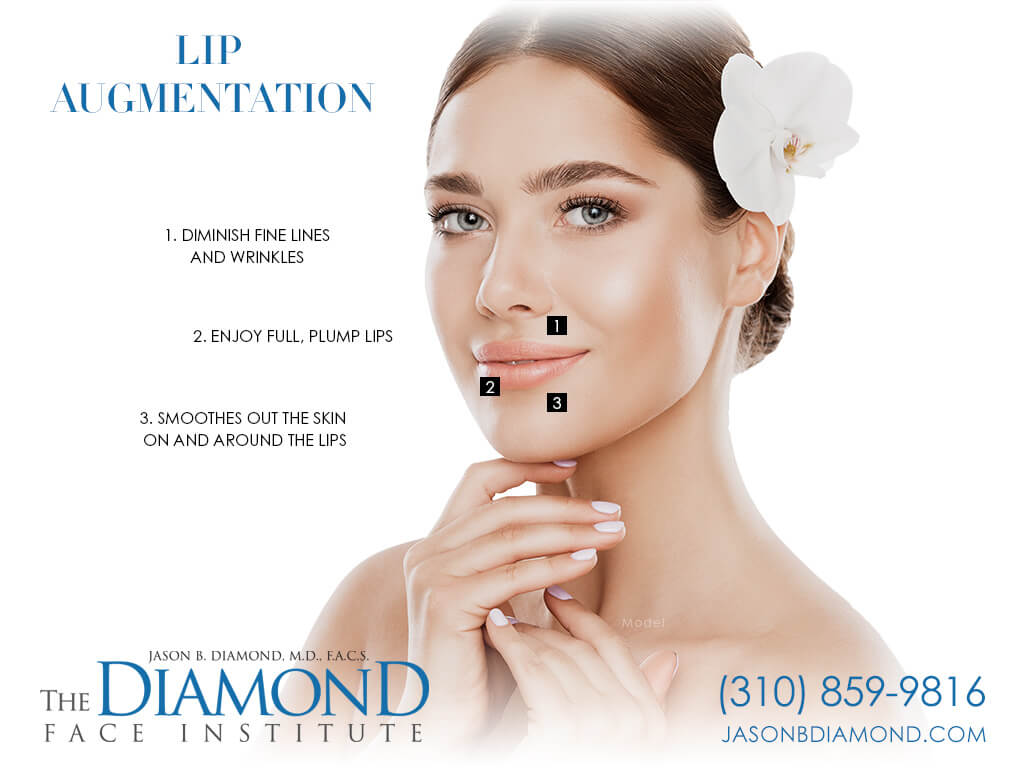 What Are My Options for Lip Augmentation?
Lip augmentation may require a topical or local anesthetic. The right choice for you will be determined during your consultation, once Dr. Diamond has selected the proper technique for your lips.
Regardless of technique, lip augmentation is an outpatient procedure, and you can show off your more prominent pout within hours or days of your procedure.
Fat transfer
Fat transfer is a two-step process. Unwanted fat is first harvested from an area of the body, such as the thighs or abdomen, and then it is transferred to the lips. This natural augmenting material comes without the risk of rejection or allergic reaction, and it can potentially provide permanent fullness.
Lip Fillers
Lip augmentation with dermal fillers uses strategic injections of FDA-approved hyaluronic acid fillers. These fillers are placed sporadically in the upper and/or lower lip to provide more plump and luscious lips.
Lip Implants
Lip implants involve inserting silicone implants through small incisions made on the inside corners of the mouth. These flexible but stable silicone implants are available in a wide variety of sizes and shapes to perfectly match your facial structure. Pairing the right patient with the right implant can create natural-looking fullness and radiance.
Lip Lift
The lips can achieve a more plump appearance without the need for fillers, fat, or implants. Lip lift surgery provides a more luscious pout by elevating the lips so that more of the pink becomes visible. This technique requires tiny incisions under the nose or inside the lips to allow the lips to be contoured. A lip lift using LipLase™ is a non-surgical alternative to this technique.
Common Combinations With Lip Augmentation
Lip augmentation can be performed alone or in combination with another facial enhancement procedure.
Common combinations include:
Is Diamond Facial Rejuvenation Right for Me?
If your lips are starting to thin or you have always desired a more luscious pout, you may be a candidate for lip augmentation with Diamond Facial Rejuvenation or non-surgical treatments. Please call Dr. Jason B. Diamond at (310) 859-9816 to set up a consultation.
To be a candidate for Diamond Facial Rejuvenation, you must be in good health. The Diamond Life program can help you achieve and maintain overall wellness. Whether you are trying to improve your diet, get more sleep, moderate or reduce stress, or lose weight, The Diamond Life lifestyle program provides you the tools you need to help you succeed. Dr. Diamond has been a follower of The Diamond Life for many years—join him by joining The Diamond Life.
What Are Your Concerns About Lip Augmentation?
Although the lip augmentation recovery process varies depending on the form of lip enhancement chosen, most patients can resume their normal routines in little to no time at all.
Lip Fillers
Lip fillers provide instantaneous results with no downtime. Patients can return to their normal day-to-day activities immediately following the injection and can flaunt off their new pout within a day.
Fat Transfer
Fat transfer adds volume to the lips immediately; however, as it is expected that some of the fat transferred will be absorbed by the body, Dr. Diamond often injects more than is necessary. Therefore, your lips may initially appear overly full or swollen. This will subside within a couple of days.
Dr. Diamond will explain how to take care of your fat harvesting site incisions and what you can expect for your recovery.
Lip Augmentation Surgery
Lip augmentation surgery, including lip implants and lip lift surgery, requires the most extensive recovery period. These surgical techniques usually require seven to 10 days of downtime. Dr. Diamond will provide you with instructions, including all limitations, during your consultation.
Will There Be Scars After My Lip Augmentation?
The lips are one of your most central and alluring features. Therefore, the concept of post-treatment scarring may be cause for concern. Fortunately, there is no scarring associated with lip fillers or fat transfer, as these materials are both injected into the lips. Lip implants are inserted through incisions made within the mouth, allowing the resulting scars to be invisible from prying eyes. Lip lift incisions are made along the lip lines or in the natural crease beneath the nose. While these incisions are made externally, Dr. Diamond's skilled artistry allows for any resulting scars to be hidden in the natural creases and pigment variations of the lips.
How Much Does Lip Augmentation Cost?
The total cost of your lip augmentation will depend on which form of enhancement is selected. The option best suited for your needs will be determined during a consultation with Dr. Diamond. Once your treatment plan is established, Dr. Diamond will provide you with a personalized cost estimate.
We offer financing options through CareCredit®.
Is There Pain Involved With Lip Augmentation?
Lip augmentation is performed with surgical or non-surgical means. The level of pain is dependent on which technique is used. Lip fillers are traditionally not painful, and any resulting discomfort will disappear within a couple of hours.
Patients who choose lip augmentation with fat transfer, implants, or the lip lift may develop mild to moderate discomfort in the hours and days following their surgery. Prescribed or over-the-counter pain medication and cold compresses will help to alleviate any discomfort during the initial days of your recovery.
What Is the Dr. Diamond Difference?
Lip augmentation surgery is a nuanced process that requires knowledge, skill, and experience. Dr. Diamond is a world-renowned facial plastic surgeon with years of experience performing all variations of lip augmentation. He offers the most advanced techniques to achieve natural-looking, lasting results. Schedule your consultation with Dr. Diamond today by filling out our
online contact form
.
What Is the Dr. Diamond Difference?
Lip augmentation surgery is a nuanced process that requires knowledge, skill, and experience. Dr. Diamond is a world-renowned facial plastic surgeon with years of experience performing all variations of lip augmentation. He offers the most advanced techniques to achieve natural-looking, lasting results. Schedule your consultation with Dr. Diamond today by filling out our
online contact form
.
Frequently Asked Questions About Lip Augmentations
Q: Which form of lip augmentation is right for me?
A: Lip augmentation is designed to restore or create fullness and a more defined lip contour. While all of the above techniques will achieve this to some degree, certain techniques are better suited for specific concerns. Dr. Diamond will explain the differences between these techniques and what they can accomplish during your one-on-one consultation.
Q: Am I the right candidate for lip augmentation?
A: Women and men consider lip augmentation because they are frustrated and displeased with the naturally thin or thinning appearance of their lips. Candidates for lip augmentation are in good overall health and have realistic expectations of their results. Patients who are smokers may develop additional lines and wrinkles around the mouth sooner as opposed to someone who does not smoke.
Q: How long does a lip augmentation take to perform?
A: The length of your lip enhancement will depend on the form of augmentation you choose. Lip fillers can be administered in a matter of minutes, whereas fat transfer, lip implant surgery, or a lip lift may take upwards of one hour to complete. You will be given details of your procedure length during your consultation.
Q: How long will the results of my lip augmentation last?
A: Depending on the type of lip augmentation you select, your results can last anywhere from a few months to a lifetime. Hyaluronic acid dermal fillers tend to last about six months but can be repeated as often as necessary to maintain desired fullness. Lip augmentation with fat transfer lasts much longer than dermal fillers (a couple of years, at least), but may require additional injections to maintain results as the body absorbs some of the transferred fat.
Lip augmentation with implants or a lip lift is considered to be permanent. While these techniques will not significantly change with time, they cannot stop the natural aging process, and, therefore, additional thinness or fine lines around the lips may develop.