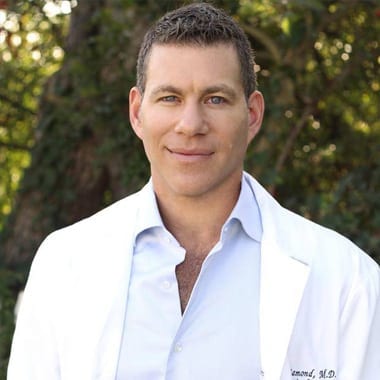 Jason B. Diamond, M.D., F.A.C.S. of the Diamond Face Institute is a top facial plastic surgeon in his field and has helped thousands of patients achieve a more youthful, natural-looking appearance with the wide range of facial surgical procedures he provides.
Education & Training & Experience in Facial Plastic Surgery
Dr. Diamond, a native of New Jersey, completed his undergraduate degree from the University of Rochester in New York and then went on to complete his medical degree from the University of Rochester School of Medicine. After completing his five-year residency, Dr. Diamond spent two years seeking out the leading facial plastic surgeons from around the world, and studying and operating with them to learn their secrets and perfect his art in plastic surgery. This self-motivated training enabled Dr. Diamond to master an extensive variety of facial enhancement techniques.
Double Board Certified
Dr. Diamond's hard work and carefully crafted surgical skills are backed by several prestigious accolades, including being double board certified by The American Board of Facial Plastic and Reconstructive Surgery and The American Board of Otolaryngology. In addition, Dr. Diamond received additional training and is a Fellow of The American College of Surgeons.
Well Respected Facial Plastic Surgeon
Dr. Diamond is well respected by his peers in the plastic surgery arena and he has been recognized as being one of the top facial plastic surgeons in his field by multiple media sources. He has appeared on the hit TV series Dr. 90210 (E! Entertainment), as well as Extra, Entertainment Tonight, The Early Show (CBS), Discovery Health, and MTV. In addition, Dr. Diamond has been featured in many print publications, including Harper's BAZAAR™, ELLE, Vogue, Life & Style, and People magazines. To learn more about Dr. Diamond's media appearances, CLICK HERE.
The Art & Science of Facial Plastic Surgery
Dr. Diamond's broad base of knowledge, combined with his sense of artistry, allows him to tailor his approach to his patients on an individual basis. He is dedicated to making your plastic surgery experience a success. With a plastic surgery practice in the Beverly Hills area of Los Angeles, CA, Dr. Diamond offers an extensive list of plastic surgery procedures and treatments to help you love the way you look, including:
Facelift and facelift revision
Brow lift
Cheek lift
Neck lift
Facial implants
Fat transfer to the face
Lip augmentation
Eyelid surgery (blepharoplasty)
Rhinoplasty (nose reshaping surgery) and rhinoplasty revision
Otoplasty (ear reshaping surgery)
Laser rejuvenation
Botox® injections
Facial fillers
Latisse®
In addition to these facial cosmetic procedures, Dr. Diamond is also a specialist in facial reconstructive surgery. His years of training that have fostered his expertise in this field and he is able to help his patients correct imperfections or problems that have developed as a result of injury or birth defects. To learn more about Dr. Diamond's reconstructive procedures, CLICK HERE.
Dr. Diamond is a highly skilled surgeon and dedicated to the total safety, comfort, and satisfaction of his patients. From your first meeting to your last post-op check-up,
Dr. Diamond will continue to exceed your expectations due to his attention to detail, friendly bedside manner, and excellent work.
No matter what facial rejuvenation procedure you are looking for, Dr. Diamond is a leading expert in field of facial plastic surgery and will expertly advise you in your transformation. At his exclusive plastic surgery suite near Beverly Hills, Dr. Diamond understands how a healthy appearance can create a happier and more self-assured individual. His years of education, training, and experience in the art and science of plastic surgery will provide you with more youthful, natural-looking results that are long lasting.
Whether you live in the Los Angeles or Beverly Hills area, or want to travel there to visit Dr. Diamond, you are in for a transformative experience with the potential to change your life! CLICK HERE for more information for out-of-town patients.
---
LATFusa.com "The 2nd Annual Hollywood Beauty Awards"
February 21st, 2016
Special Honoree Awards
Beauty Enhancement Award – Dr. Jason B. Diamond presented by Rebecca Gayheart Timeless Beauty Award

---
---
Meet The Staff
Janet Handley
Janet Handley is a registered nurse who is a specialist and expert in the field of aesthetic, cosmetic and laser medicine. She received her Bachelor of Science degree in Business Administration from the University of Southern California (USC) and her nursing degree from the Los Angeles County Medical Center, USC School of Nursing. Her credentials include certification as a Certified Plastic Surgical Nurse and memberships in the American Society for Laser Medicine and Surgery, Dermatology Nurse's Association, and the Association of Plastic Surgical Nurses. She is also a member The Aesthetic Practice Association (TAPA), and serves as a medical advisor in this organization.
With more than 14 years of clinical experience in plastic surgery and dermatology nursing, Janet skillfully and artistically performs the highest quality laser treatments for skin rejuvenation, skin tightening, wrinkle reduction, hair removal, and acne. Her expertise is also demonstrated in Botox treatments and injectable fillers including Restylane®, Perlane®, Juvederm®, Radiesse®, Scupltra®, Collagen, and Hydrelle®. Her talent also encompasses aesthetic dermatologic treatments such as chemical peels and physician grade skin care for her patients. She has worked for top Beverly Hills plastic surgeons, including Dr. Jason Diamond, and played a key role as a director in building a multiple site aesthetic practice.
As a Clinical Trainer for the world's largest and premier aesthetic laser company, Janet has trained and instructed the safe and proper use of laser and light technologies to thousands of physicians, physicians' assistants, registered nurses, nurse practitioners, and aestheticians throughout the United States, Canada, Cayman Islands, Mexico, and Latin America.
Janet's drive for perfection and knowledge, as well as tremendous experience, make her well suited as an aesthetic specialist. She provides the highest quality care and professionalism and remains well versed in the latest technological and procedural advances.