Beverly Hills Cheek & Mid-Face Lift
Round, full cheeks are a sign of health and youthfulness. This fullness highlights your cheekbones and keeps your complexion centered. Unfortunately, age and sun damage weakens the tissues in the midface, which causes your angular features to lose their attractive definition.

Diamond Facial Rejuvenation offers a surgical response to these signs of aging. Diamond Facial Rejuvenation is a collection of facial surgeries that comprehensively restore balanced, youthful contours. A cheek lift (mid-facelift) is a Diamond Facial Rejuvenation technique that revitalizes the face by repositioning the facial tissues over the cheekbones and returning the volume to the midface.
Female, Cheek Lift, Facelift, Neck Lift, Brow Lift, Lower Blepharoplasty, Facial Fat grafting, Chin augmentation.
Each individual case is, of course, different, and the results of surgery will vary from individual to individual.
View Gallery
What Can a Cheek Lift/Mid-Facelift Address?
Loss of Midface Definition
Sagging facial tissues often lead to the loss of cheek definition. This loss results in a hollowed appearance of the midface and contributes to unwanted fullness on the lower face in the form of jowls. Diamond Facial Rejuvenation with a cheek lift repositions the soft tissues over the cheekbones to restore shapely and fuller cheeks.
Midface Wrinkles
Just as sagging facial tissues result in the loss of facial volume, they also create wrinkles and folds between the nose and cheeks. A cheek lift lessens or eliminates the nasolabial folds that develop in this region by gently tightening the underlying facial tissues. The elimination of these lines restores a more youthful appearance.
Hollowness Under the Eyes
Hollowness or dark bags develop beneath the eyes due to the weakening of the tissues. By repositioning the soft tissues over the cheeks, most patients see a reduction in their under-eye bags and an increase in their facial fullness.
What Are My Options for My Mid-Facelift?
Your mid-facelift/cheek lift is performed using local or general anesthesia depending on the extent of the procedure and whether or not any other procedures are being combined.
Endoscopic Cheek Lift
Dr. Diamond performs his cheek lift endoscopically. A few small incisions are made within the hairline or behind the ear without cutting into the muscle. These small incisions and an endoscope—a pencil-sized camera—allow Dr. Diamond to elevate the cheeks. This rejuvenates the midface while preserving natural-looking results.
Combination With Facelift
Many mid-facelift patients choose to combine a facelift with their #DiamondFacialRejuvenation. This combination allows for the rejuvenation of the midface, lower face, and neck to maintain balance and harmony between the features. Facelift surgery removes excess skin and tightens the underlying facial tissues and fat to restore smoother skin.
Combination With Eyelid Surgery
Cheek lift surgery softens the hollows around the eyes, but it does not address aging on the eyelids. Patients who develop laxity on the eyelids in the forming of hooding above the eyes or bags beneath the eyes can benefit from eyelid surgery (blepharoplasty) in combination with their Diamond Facial Rejuvenation. Eyelid surgery removes excess skin and repositions fat on the upper and lower eyelids.
Combination With Injectable Treatments
Cheek lift surgery addresses aging on the midface only. If improvement is desired on the lower or upper regions of the face, injectable treatments may be able to provide that improvement. Dr. Diamond uses injectable dermal fillers with Diamond Facial Contouring to correct hollows on the lower face. Alternatively, BOTOX® Cosmetic can smooth wrinkles around the eyes and forehead to produce natural-looking youthfulness. Injectable treatments provide temporary results, and patients will need to repeat treatments to maintain their youthful skin.
Injectable treatments cannot be administered at the same time your cheek lift is performed. You will need to set up a separate appointment for your injectable treatment.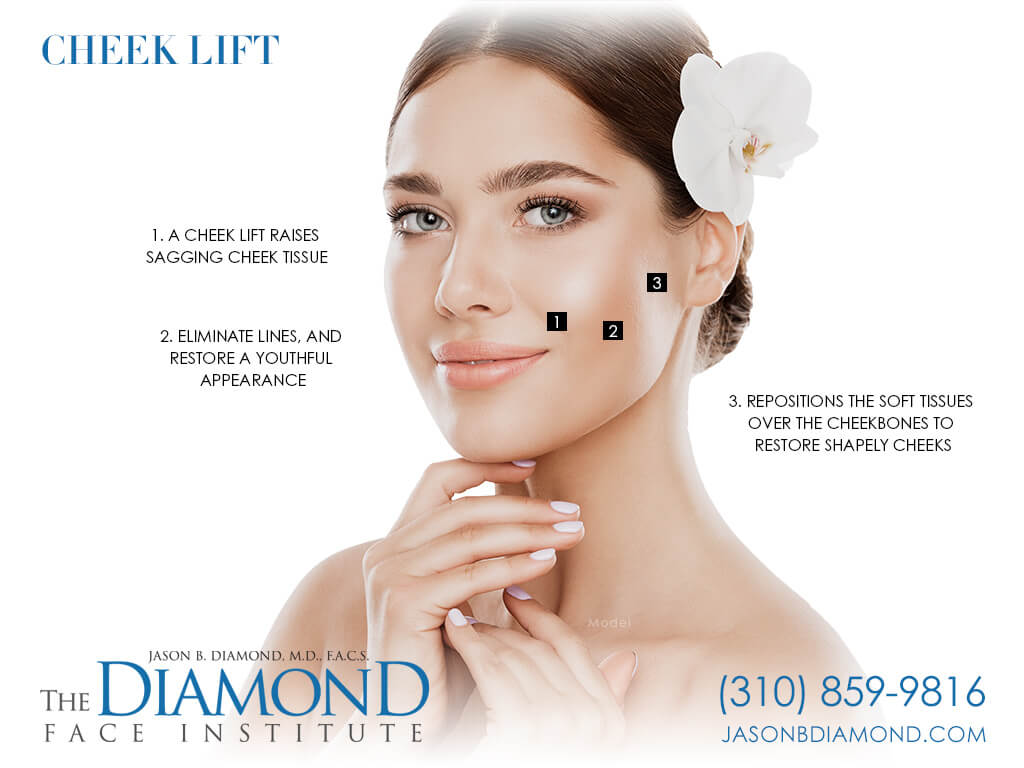 Is Diamond Facial Rejuvenation Right for Me?
If you are starting to notice the beginning signs of aging on the midface, an endoscopic cheek lift may be able to prevent or prolong the need for a more invasive facelift later. Please call Dr. Jason B. Diamond at (310) 859-9816 to set up a consultation.
Dr. Diamond recommends that you are in optimal health without any health concerns that could impair your ability to heal. This includes being close to your ideal weight and having a healthy mindset.
What Are Your Concerns About the Cheek Lift/Mid-Facelift
How Long Will It Take to Recover From My Cheek Lift?
A cheek lift is an outpatient procedure, and you will return home shortly after your surgery. You will need to have someone drive you home and stay with you for one to two days.
Immediately After
Because cheek lift surgery is performed endoscopically, there will be less post-operative bleeding and swelling. This allows for less discomfort and shorter recovery time.
One Week
Patients should rest with their head elevated for the first week. This will promote blood circulation and reduce swelling. Most patients return to work and their normal activities after one week.
Two to Three Weeks
Most patients can return to their normal activities within two to three weeks. The majority of the bruising and swelling should have subsided by this time, but some residual swelling may be present for up to a few months.
Strenuous exercise can be resumed after four to six weeks.
Will There Be Scars After My Cheek Lift/Mid-Facelift?
Dr. Diamond performs cheek lift surgery with an endoscope, meaning that the incisions are very small and hidden behind the hairline or ears. These incisions will not produce visible scarring.
How Much Will My Cheek Lift Cost?
Your cheek lift will be tailored to meet your needs. An in-office consultation is required with Dr. Diamond to determine the cost of your surgery. During this consultation, Dr. Diamond will evaluate your skin condition and your tissue laxity to determine the best techniques for you. Once he has done this, he will be able to provide you with an accurate cost estimate that will factor in the techniques as well as anesthesia fees, facility fees, and surgeon's fees.
We offer financing options through CareCredit®.
Is a Cheek Lift Painful?
The cheek lift is performed under anesthesia to prevent any pain during or immediately after the surgery. You may develop some bruising, swelling, and discomfort in the days following your procedure, and any pain can be controlled with prescribed or over-the-counter pain medications.
What is the Diamond Difference?
Diamond Facial Rejuvenation is a complicated surgical procedure that requires skill and an artistic hand. Dr. Diamond is a renowned facial plastic surgeon with years of experience performing cheek lift and facelift surgery. He strives to find and use the most advanced techniques to provide the most natural-looking results. Schedule your consultation with Dr. Diamond today by filling out our
online contact form
.
What is the Diamond Difference?
Diamond Facial Rejuvenation is a complicated surgical procedure that requires skill and an artistic hand. Dr. Diamond is a renowned facial plastic surgeon with years of experience performing cheek lift and facelift surgery. He strives to find and use the most advanced techniques to provide the most natural-looking results. Schedule your consultation with Dr. Diamond today by filling out our
online contact form
.
Frequently Asked Questions About the Cheek Lift
Am I a candidate for a mid-facelift?
Candidates for cheek lift surgery show localized signs of aging on the midface. Men and women who are interested in this procedure should not smoke, be generally healthy, have no previous medical conditions that can impact their ability to recover, and have realistic expectations of their results.
This technique is ideal for individuals who want to touch up their appearance rather than undergo a more invasive facelift.
What is the difference between a cheek lift/mid-facelift and a facelift?
A cheek lift addresses the midface. It will not treat the lower face and neck. A facelift targets the signs of aging on the neck, along the jawline, and around the mouth in addition to the midface. Patients who display significant facial wrinkles, sagging jowls, and tissue laxity in the lower face and neck may be better suited for a facelift or a combination of the two procedures.
Why should I quit smoking before my cheek lift?
Smoking and all other forms of nicotine inhibit blood flow. The reduced amount of circulation increases your risk of complications and will prolong your recovery period. We recommend that you stop smoking at least four weeks before your procedure and two weeks after your surgery.
Will my cheek lift results be permanent?
The cheek lift improves the shape, prominence, and definition of the cheeks by restoring tissues to their correct placement and elevation. These results will be long lasting, but they cannot stop the natural aging process. Your midface will continue to age naturally and gracefully, and eventually, additional signs of aging may develop.
While you will continue to age, your complexion will always look more youthful than if you did not undergo a mid-facelift. You can help extend the longevity of your results by following a healthy lifestyle, including sun prevention, using quality skincare products (such as those available in our shop), and a nutritious diet.